Overview
CAD/PDF
Specifications
Plan Notes
Install
FAQ
Terre Arch™
Modular Stormwater Detention System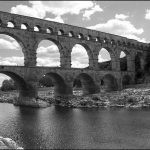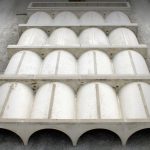 ANCIENT PRINCIPLE | MODERN INNOVATION
If you are looking for an underground stormwater detention system that is cost-effective, easy to install, and will last a lifetime, then look no further than the Terre Arch™ Modular Stormwater Detention System from Terre Hill Concrete Products. The Terre Arch™ System is scalable to suit a wide array of site parameters and storage requirements. And because each unit is made from precast concrete, the Terre Arch™ System is strong enough to support greater loads with minimal cover. Contact us today to discuss your project and learn why we offer the best products for your stormwater management needs.
DISCOVER THE TERRE ARCH™ ADVANTAGE
EASE AND SPEED OF INSTALLATION

– Each Terre Arch™ section installs in just a few minutes, allowing you to create up to 25,000 cubic feet of storage per day, reduce installation time, and minimize labor expenses.
DURABILITY AND LONGEVITY

– Plastic and metal systems cannot compete with the lasting strength of precast concrete. If you need a system that will stand the test of time, you need a Terre Arch™ system.
IDEAL FOR HIGH WATER ELEVATIONS

– With its modular, low-profile design, Terre Arch™ can be installed where other systems cannot.
MINIMAL COVER REQUIRED

– Achieve maximum strength with minimal cover thanks to Terre Arch's™ distinctive "Roman Arch" design.
ECO-FRIENDLY

– Concrete products are made from naturally derived materials and are produced in local manufacturing facilities.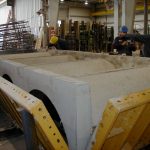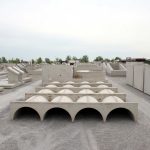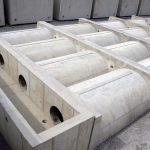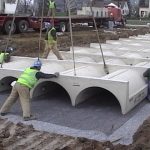 WHICH UNDERGROUND BASIN IS RIGHT FOR YOU?
StormTech ®
SC-740
Terre Arch™
TA26
StormTech ®
MC-3500
Terre Arch™
TA48
Stone Base

6"

6"

9"

12"

Stone Between Units

6"

None

9"

None

Minimum Cover

24"

12"


Stone or Soil

24"

12"


Stone or Soil
Dimensions
per unit

L:   7.12'




W:  4.25'




H:   2.50'

L:    8.00'




W: 19.00'




H:   2.83'

L:   7.17'




W:  6.42'




H:   3.75'

L:     8.00'




W:  20.00'




H:    4.58'

Footprint
per unit

30.3 sq ft

152 sq ft

46.0 sq ft

160 sq ft

Storage Capacity
per unit

45.9 cu ft

236 cu ft

109.9 cu ft

478 cu ft

Storage Capacity
per square foot

1.5 cu ft

1.6 cu ft

2.4 cu ft

2.9 cu ft

Storage Capacity
per unit (Installed)

74.9 cu ft

341 cu ft

178.9 cu ft

670 cu ft

Storage Capacity
per square foot (Installed)

2.5 cu ft

2.2 cu ft

3.9 cu ft

4.2 cu ft

STORAGE CAPACITY
per linear foot (Installed)
10.5 cu ft
42.6 cu ft
24.9 cu ft
83.8 cu ft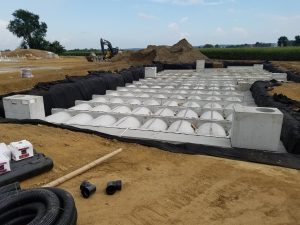 NO BETTER SOLUTION
Calculate and compare the total cost-per-cubic-foot of storage for both materials and installation labor of your stormwater detention system, and you'll see for yourself that the Terre Arch™ is a cost-competitive alternative to any plastic or corrugated metal product in the marketplace.
When you install a Terre Arch™ system, you'll have the peace of mind knowing that its precast concrete design will outlast any other product or material in use today.
To learn more about the Terre Arch™ Modular Stormwater Detention System and the other innovative products we manufacture, please contact a member of our Stormwater Team
Gene Lamanna
Stormwater Sales
glamanna@terrehill.com
610.621.8960
Serguei Diaz
Stormwater Project Coordinator
sdiaz@terrehill.com
717.445.3114
---
Terre Hill Concrete Products is proud to partner with YQS: Your Quality Solutions as a preferred installer and maintenance provider for our Stormwater products.

CAD/PDF
General Chart
NJ Chart
Maintain
Warranty
Case Studies
Frequently Asked Questions
How does the cost of a Terre Arch™ compare to the plastic, HDPE or CMP  products?

The important cost is the "Installed Cost of Void Space Underground"; precast concrete as a material cost, may cost more than plastic, HDPE or CMP; but, the installed cost is the critical issue.

Terre Hill's "just in time" delivery reduces material handling allowing each Terre Arch™ to be installed every 5 minutes; HS-20 load rating allows direct access for all installation equipment; and reduced stone requirements results in reduced project time and reduced man hours, creating an installed cost per gallon or ft³ that is very cost competitive; in many cases less than the installed cost of plastic, HDPE or CMP products.

When the project requires "prevailing wage rates" on-site labor costs are significant; Terre Arch™ reduces labor costs to a minimum.
How does the structural strength of the Terre Arch™ compare to plastic and HDPE products?

Terre Arch™ 4" thick precast concrete arch structural strength and elasticity modulus far exceeds that of plastic or HDPE

Precast concrete has very low creep and relaxation compared to plastic or HDPE

No Subsidence or Collapse danger with precast concrete.
What are the dimensions/weight/capacities of the Terre Arch™ ?
Model
Structure
Arch Height
Arch Span
Storage
Load Rating
Weight
Terre Arch 26
34″x8'x20″
26″h (internal)
52″w (internal)
338.62ft3
2.23ft3/ft2
HS-25
13,500 lbs</td
Terre Arch 48
55″x8'x20″
48″h (internal)
72″w (internal)
605.74ft3
3.78ft3/ft2
HS-25
15,700 lbs</td
What is the minimum soil bearing capacity required for a Terre Arch™?

Minimum soil bearing of 3000 psf; as verified by the Engineer, with a 12" stone base, is required to support the Terre Arch™. If cover on the Terre Arch™ exceeds 3', the stone base may need to be increased to balance the bearing  load with the bearing capacity.
What is the normal installation time for a Terre Arch™?

With a properly excavated and prepared base a Terre Arch™ can be set every 5 minutes; with installation of up to 30,000 ft³ in 1 day, including cover & backfill.
What is the design life of precast concrete?

100+ year usual life
What Warranty does Terre Hill Stormwater Systems provide?

4 Year Labor & Material Warranty